PSG riddled with issues ahead of Champions League tie with Chelsea
A win is a win. Whatever the gam; whatever the way; whatever the circumstances. Some wins are more important than others, some more significant and some luckier. But they all count and all bring something to the team. And the victory for PSG against Marseille on the weekend is no exception, coming just over a week before the reigning French champions' biggest game of the season against Chelsea in the Champions League last 16.
Some victories, however, can also surprise and the 2-1 PSG victory against their arch-rivals in a hotly anticipated Classique at the Stade Velodrome unexpectedly did just that. Of course Paris's two goalscorers on the night, Zlatan Ibrahimovic and Angel Di Maria were not a surprise. They are both having a great season and it was expected that they would carry the team in this huge match. They did not disappoint. What was surprising, however, was that PSG were not actually the best team on the pitch. They were second best in terms of attitude, aggression and desire.
Now, the Parisians might be 24 points clear at the top of the Ligue 1 table, unbeaten domestically since the start of the season and if they are not motivated to play Marseille, their biggest rivals, there is an issue. Yet on Sunday, it felt like the players were not that committed, or at least lesser so than their opponents. They were complacent, slow, sloppy in their passing and struggled.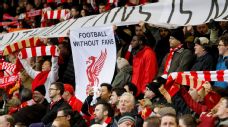 You could assume that everything will be different against Chelsea on Tuesday at the Parc des Princes. But again, you would have assumed the same before the Marseille clash. And it didn't happen.
They didn't deserve to win, no one will dispute that. But the most surprising is how overran they were in midfield. For a while now PSG's three-man midfield has been one of the best in Europe. The trio of Marco Verratti -- Thiago Motta -- Blaise Matuidi is perfectly harmonious. Verratti has the foot, Motta the brains and Matuidi the legs. They understand each other so well and are the powerhouse behind the success of the team.
On Sunday, Verratti was missing and there is every chance that he will be missing the Chelsea clash rather than starting. Replaced by Adrien Rabiot, the PSG midfield lost 39 balls in total against Marseille, more than any game this season. Rabiot, Motta and Matuidi (three left-footed players by the way) were beaten by the Marseille midfield. The Marseillais were more aggressive, more determined and just plain better. The absence of Verratti can explain the bad day the PSG midfield suffered, especially Motta, who was unrecognisable on the night. Motta will be a key player against Chelsea next week. Not only does he need to protect the back four, but he is also the one who starts PSG's attacks.
The form he showed against Marseille was worrying. If Motta can be overrun against Marseille, imagine what will happen against Chelsea in what promises to be a much more pacy and intense game.
If Verratti is not fit, it's likely that Rabiot will replace him again. At 20, Rabiot is one of the most promising young French players. But he can still be hit-and-miss. He gave a world class performance away at Real Madrid in the group stages, but was poor against Barcelona last season in the quarterfinal first leg, losing a ball that led to Neymar's goal after just 18 minutes.
Offensively, too, there is a question mark on who will play up front with Ibrahimovic and Di Maria. Lucas Moura has still not convinced when given the chance, especially in big games like last Sunday's when he was such a disappointment. Edinson Cavani has been on the bench since the start of the year. He could come back for the Chelsea game, but in what state mentally after being dropped for six weeks?
Defensively, Thiago Silva is back to his best but David Luiz is in a different place. He still has a few nagging injuries with a dodgy knee and a fragile hamstring. The Brazilian defender also refused to be substituted out of Sunday's match, leading to a clear the air session with Blanc on Tuesday.
At least, Paris still have their two best defenders, which is not the case for Chelsea after the terrible injury suffered by Kurt Zouma on Sunday against Manchester United. It is a big setback for the Londoners, as the Frenchman became a starter under Guus Hiddink. It's a disappointment for France as well, as Zouma was the favourite to be the fourth centre-half picked by France coach Didier Deschamps for this summer's Euro 2016, along with Raphael Varane, Laurent Koscielny and Mamadou Sakho.
So not everything is rosy in Paris. A week won't be enough to resolve some of the issues, but there are enough positives to still make them favourites against Chelsea.
Julien Laurens is a London-based French journalist who writes for ESPN FC and Le Parisien. Follow him on Twitter: @LaurensJulien.